The European Cancer Inequalities Registry is governed by Commission services, the Directorate-General for Health and Food Safety (DG SANTE) and Directorate-General of the Joint Research Centre (DG JRC), together with the Organization for Economic Cooperation and Development (OECD).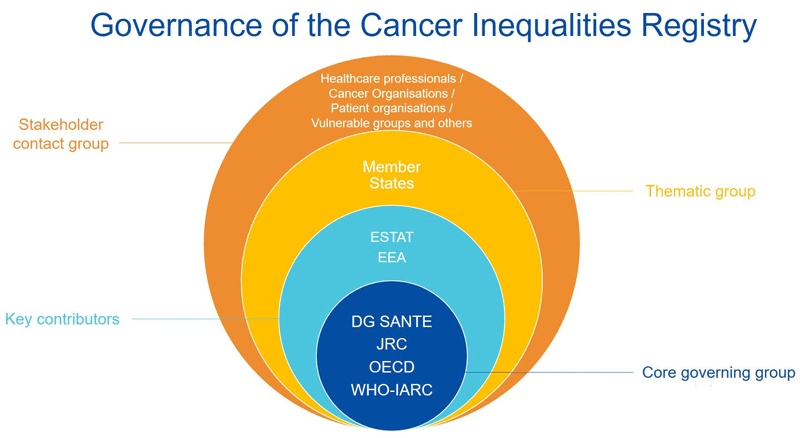 Several other international organisations, research partners and European Commission services will be key players in the years to come. Their data and findings will feed into the data tool and the analytical reports, complementing and enhancing the initial dataset and closing data gaps.
Member States will guide the development of the initiative beyond its initial stages and along the course of its reporting cycles. Member States will be consulted on their country's policies in cancer prevention, diagnosis and care and on the availability of national data sources, and will be involved in validating the data presented in the reports. They may also suggest new thematic areas and ways to improve the data tool and analytical reports.
Cancer Stakeholder Groups are also important partners for the implementation of the project. They will be involved in the process and encouraged to contribute to the initiative with relevant data. In particular, cancer networks, organisations representing patients, healthcare professionals, vulnerable groups, or other players directly affected by cancer prevention and care will be able to enhance the database for the European Cancer Inequalities Registry with their expertise and networks. Their collaboration and active participation will help disseminate the results widely, raising the initiative's impact.